Welcome to RTR Official Website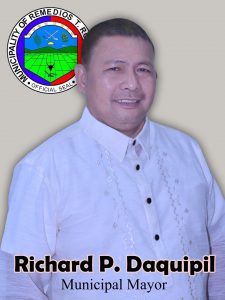 The May 13, 2019, electoral exercise was a concrete expression of the will of the people. My mandate was not just to make our beloved town more progressive but to make it work as a system of genuine popular participation, to make it meaningful to the lives of the common people by serving them with sincerity and dignity with reason to hope that the future will be better for themselves and their children.
Under this new humble leadership, I have in mind to break the barriers that perpetuate all facets and contributing factors of poverty through unity, solidarity and team work among all concerned sectors of the municipality especially so our marginalized farmers, so that together, we can achieve singularity of purpose in word, in spirit and in action, we will denounce all types of greed and abuses, to bring about efficiency in public service and promote the general welfare, our environment should be improved the unity by fighting against illegal logging, taking care of our garbage and waste, preserving our water and not polluting our air, to savor the charms of clean and green surroundings.
In several instances I always emphasized specially to our officials and employees that as a public servant we should always serve our people with "smile" as we know for a fact that our "BOSS" is our clientele, we are paid by people taxes, they need our respect and due courtesy, as the Code of Public Service requires all government employees must remain true to the people at all times. We must act with justness and sincerity and shall not discriminate anyone especially the poor and underprivileged. We shall at all times respect the rights of others and shall refrain from doing acts, contrary to law and public interest, and should be prompt, courteous and adequate service to our people. We will not make substantial gains if we are faint hearted and timid, if we set up good plans and modest targets, great progress is accomplished first in the mind, in great aims that challenge our capabilities and stimulate our collective adrenalin together our town RTR and its people feel extreme pride and fulfillment in achieving its vision and aspirations in all aspects of growth and development.
Maintaining of RTR Official Web Site is a great opportunity for town and our people to be in forefront nationwide and even worldwide.
Also in compliance with the expressed provisions of R.A. No. 9184 otherwise known as the Government Reform Act with the Revised Implementing Rules and Regulations, through Phil GEPS, with refers to Philippines Government Electronic Procurement System, everybody has an equal opportunity to have access regarding the procurement activities of the government particularly the Municipality of RTR and some vital information about the town.
The Municipality of RTR, Agusan del Norte with 8 component barangays, is a rice producing town, it abounds in forest, agriculture quarry materials and mineral resources ie. High grade manganese ore, gold and others its population of more than 18,000 and has a total land area of more or less 8,700 hectares. The picturesque Mount Hilong Hilong the highest in the region and its verdant forest provides as background of the municipality. It has three (3) magnificent waterfalls beneath the mountains. Its proximity to Butuan City and Cabadbaran City its natural catch basin for investments having good facilities and features-electricity, water communication, transportation and above all inhabited with peace loving people.
Remedios T. Romualdez is the youngest town in the province of Agusan del Norte.The new town was formerly barangays Agay, Basilisa, Balangbalang, Humilog, Panaytayon, San Antonio and Tagbongabong, all previously a part of the Municipality of Cabadbaran and the primary supplies of agricultural products, notably rice. They appropriately named the rice granary of Cabadbaran.
The seven (7) barangays slowly but steadily progresses as more migrants came and settled permanently to till the fertile soil. Agriculturally oriented and industrious new comers found the place a productive haven for an idyllic life. Situated along the Maharlika Highway, the inhabitants were convinced that their place could become a halfway town between the city of Butuan and Cabadbaran later.
It officially became a local government unit on January 1, 1984.
The municipality of Remedios T. Romualdez is envisioned to become an agri-industrial develop municipality after 10 years. It is one of the leading palay producers of Agusan del Norte and destined to top the statistics as a rice-producing municipality being the influence area of Agusan 11 Projects of the National Irrigation Administration (NIA).
The Municipality is the rice granary of the province and also one among the biggest and high- grade quality of Manganese Mineral Resources in the Country.